Yuba bikes, named after a river in California, was founded in 2007 by Benjamin Sarrazin who grew up in Strasbourg, France. Located in Cotati, just north of San Francisco, they are specifically focused on cargo bikes. They aren't all the trendy extended long-tail style either. They also have a cruiser style with a short tail called the Boda Boda and a front loader cargo style, mostly seen in Amsterdam, the Supermarché (which we plan to review as well). Of their five models, only three come with an electric motor option. We had the opportunity to try out the Spicy Curry Bosch, the electric version of their Sweet Curry model.
Configuration
The Spicy Curry is an extended tail style cargo bike built with thick tubes and the Bosch motor is mounted between the pedals. With the soft seat and monkey bars accessories installed, it has an odd empty space between the seat tube and the cargo rack that seems like it should, or could, be used for something. With kids taking up all of the cargo rack, my wife and I kept trying to find a way to attach a little bag of some sort there. If we owned the bike we would probably stitch together a bag to fit that spot perfectly to stash things while on the go.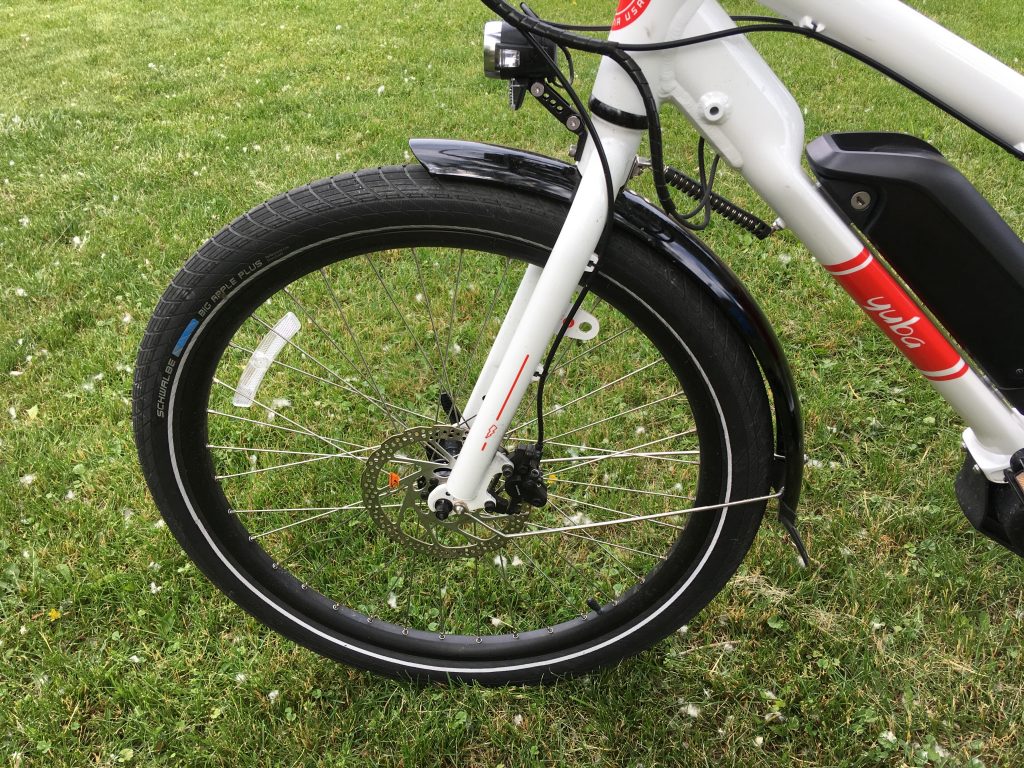 The bike has a 26-inch front tire and smaller 20-inch rear tire to keep the center of gravity low and to make it easy for kids to climb themselves in. Both wheels come with fenders to cover them.
While the top tube does have a nice sloping angle down from the head tube to the seat tube, it's not a true step-through style frame.
Passengers & Cargo
The raw base model simply provides a long tail rack to be configured to a number of different user types. Yeah, not everybody is getting these bikes just to haul their offspring around. Our version came with the Bamboo Sideboards for the kiddos to put their feet on, the adjustable Monkey Bars for them to be caged in and to have a place to hold on, the Soft Padded Seat for my elder, and the Yepp Maxi EasyFit for my younger (who is not to be trusted to hold himself in) to be totally strapped in. It also came with the upgraded Stand Together dual kickstand which was one of the easier ones to use and stable enough for the kids to climb on the bike (on a totally level surface) without tipping the bike over. Like I said above, this is great for carrying only kids. But not so great for carrying all the gear that often goes with kids (lunch box for school, Dad's laptop, snacks for the youngest at daycare, etc.). For that you'll need to add on either their 2-Go Cargo Bags and/or the front mounted Bread Basket.
Yuba lists on their website that the Spicy Curry Bosch can take on a 300-pound load plus the driver. It can also pull a trailer, and while that won't count against the 300-pound load limit on the frame itself, it will make the bike motor work harder and drain the battery faster.
Power
The Yuba Spicy Curry is powered by a smooth action 250-watt Bosch Performance Line CX Motor mounted between the pedals and is juiced from a Li-ion, 36V, 11Ah, 400Wh battery. They claim that battery provides between 30 and 60 miles of range depending on how it's used. Our use of hauling the kids all around Boulder—including going up the steep hill to Chautauqua for the Meadow Music concerts—put us right in that range at 35-40 miles. That hill is certainly the big drain. While detaching the battery to bring it in to charge is not a huge hassle, we did love being able to just plug into the battery while it's still mounted on the bike. On average, we only had to charge the bike about twice a week. The battery is mounted on the down tube and is secured with a key based lock to ensure it doesn't wander away on its own and it comes with integrated front and rear lights for dark rides.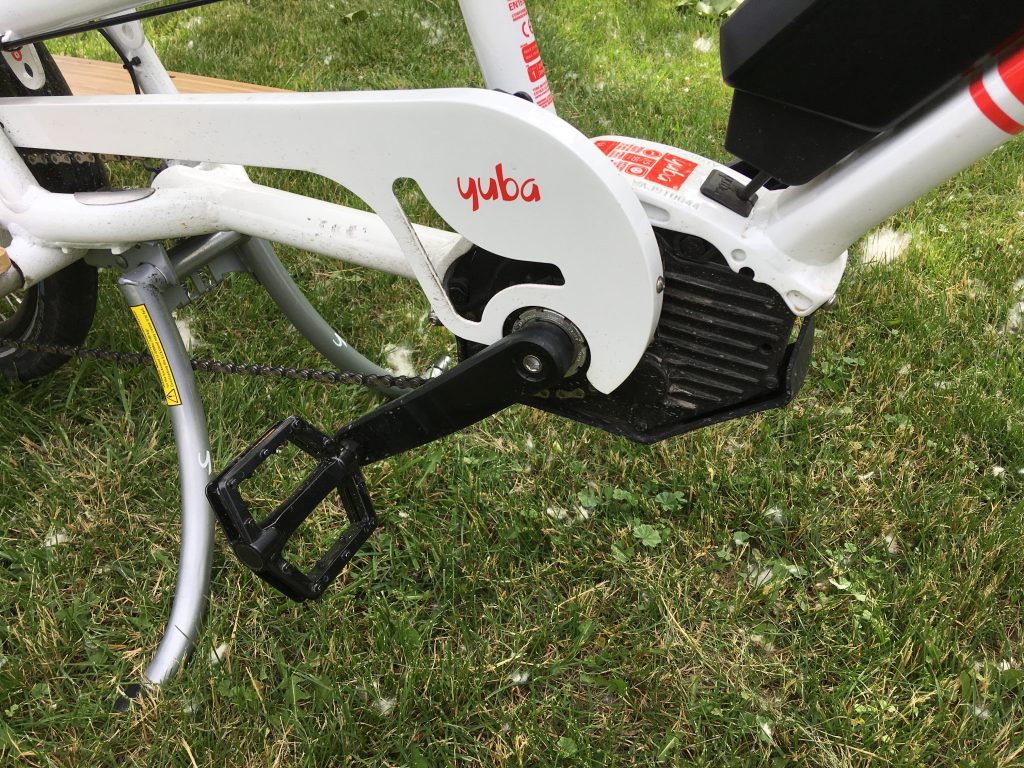 This is purely a pedal assist bike and does not have a separate throttle like some. So you can't just ride it like a moped, you have to pedal to get the power. In truth, even after testing bikes with a throttle, this wasn't a very big deal. The only instance where this proved its limitation was when the chain jammed on me and I had to stop right there along the bike path with my 1-year-old strapped in to fix it. With the throttle option I could have just stopped pedaling and used the throttle to get me the rest of the way home where I could unload the kid and then dig into the problem.
The e-power assist is available in five levels starting with none and up through Turbo. The power assist maxes out around 18-20 mph and at that speed I found the gear ratio to be a disappointment. Even in the highest gear as I passed 18 mph, my legs had to pedal pretty fast to find the resistance point to add more speed. Granted, I don't need to go that fast, but I still wanted the option to shift up again to push harder. The Shimano 10-speed, 1x gearing is operated with a smooth forefinger and thumb trigger system and was easy to use.
Ride Quality & Handling
The 20-inch rear tire makes a big difference in lowering the center of gravity with a load on the rear and makes for a very stable ride. Still, my 5-year-old felt it necessary to test how much she could squirm (particularly when she decided to turn around mid ride to face her brother… or to turn away from him), without sending us all into the creek that runs along some of our bike paths. The 71-degree angle of the head tube (and seat tube) makes for a comfortable and casual geometry for someone my size. The bike is designed to accomodate people ranging from 5- to 6.5-feet tall, but we can't imagine a 5-foot person being able to ride that bike. My wife, at 5' 10" had a hard time getting her foot over the bar. And, at 5' 11" myself, I could already feel that at the height I liked to set the seat it felt like I had to lean forward a bit to reach the handle bars. The seat is broad and comfortable for being in the saddle for extended periods of time.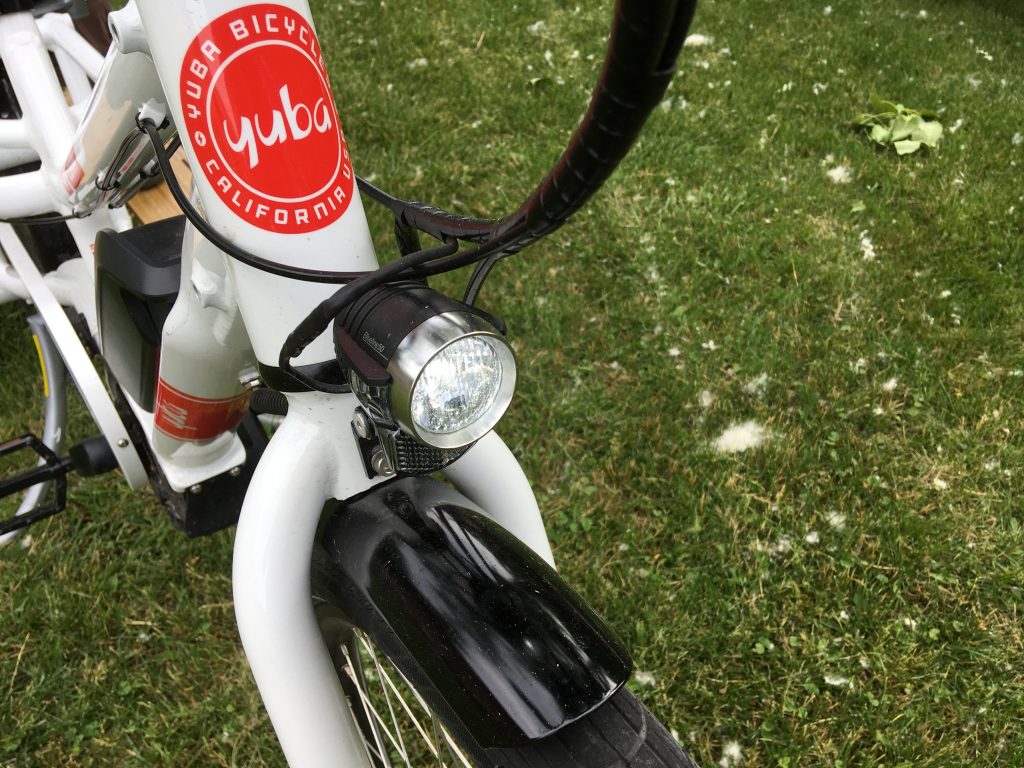 Maneuvering the bike into the perfect parking spot can be tricky and certainly takes some practice, especially with how the double sided Stand Together kickstand works. The longer tail of the Spicy Curry (900mm) makes it a little harder to rock the bike back onto the rear wheel to pivot it around, but at 60 pounds, it's not too hard to nudge as needed.
Price
The Yuba Spicy Curry Bosch costs $4,499 which is pretty average for long tail style electric cargo bikes. In total, the accessories we were using cost an extra $667 and I would have liked to add on a front basket, although I would look into alternatives to Yuba's $180 Bread Basket, but that would be the simplest way to put some extra cargo space up front.
Check them out at yubabikes.com.