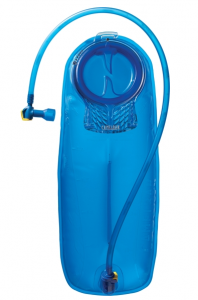 I am totally impressed with CamelBak's new Antidote hydration bladder. I've been though a few rough times with bags of water and their various shortcomings and even very soggy disasters. Sometimes, we tolerate some inconveniences to make something else more convenient. The Antidote eliminates the troubles from hydration bladders of the past and makes it easy to make drinking convenient. Here are the features I love:
Access. The new quarter-turn wide mouth opening at the top of the bladder opens and closes with literally just a twist of the wrist. No more struggling to loosen the top and putting your fingers through some degrees of pain, or finding you can't get a good grip on the small handle with gloved hands. With that, add cold to the equation to bump up the pain factor. Or dealing with the same thing when trying to close a beefy zip-loc style top that don't always close all the way if at all.
Slimline. A new baffle in the middle of the larger bladders keeps the bag from bloating out and becoming unruly. Often times water is the last thing to add to your pack while getting ready. When your gear is already using up most of the space, even with a separate compartment for your water system a fat bladder can be hard to get in there. The baffle keeps the bladder slim and lets it slide right into place.
Connect. The Quick Link system releases the hose from the bladder allowing for a number of conveniences. If you have your hose set up through the access in your pack, or with the new CamelBak winter packs, the hose goes up the shoulder strap to keep it warm, you can release the bladder and pull it out and leave your hose in place. If the hose is full of water, you might get a drop or two jumping out, or of you squeeze the mouthpiece and allow air to get in the hose, then you will drain the hose on whatever you're standing over. But a simple fix is to just blow what's in the hose out back into the bladder before disconnecting and you'll keep everything dry.
Dry. On previous systems and with other brands one method to help your bladder dry out completely has been to loop the hose into the bladder to help air flow and keep it from molding between adventures. CamelBak has now integrated dryer arms that stow right along the mouth and swing out to crimp the bladder from the sides keeping the wet interior walls from sticking together and never drying.
I have yet to find something I would want to improve on with this system. Check out the interactive feature demonstration on the CamelBak website.
Check out the demo given to me at the Summer Outdoor Retailer Market in this video:
Written for Elevation Outdoors Magazine Blog