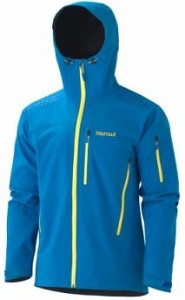 This is a technical jacket. The core specifications – Polartec's new NeoShell fabric, taped seams, storm hood – are impressive. But most importantly it performs well. As with anything new, it's a little stiff when you first put it on, but that concern quickly fades away as the totally bomber nature of the Zion is realized. While you're still standing in the store trying it on, you are transported to icy crags and powder days.
This is a winter jacket. The insulative nature of the soft shell is such that during any sporty activity you will want to be in the near freezing/sub-freezing temperatures. The NeoShell fabric is totally windproof. I was impressed when bombing down ski slopes, dead into the wind, and though I felt the pressure of the wind against my body, the cold never seeped through.
The hood, with the jacket zipped all the way up, stayed on my head keeping my forehead warm – something I noticed as a concern earlier in the season before I had the Zion. Even in the wind, this jacket is quiet. While taking a phone call on my iPhone ear-buds, using the iPod port, the microphone tucked inside the jacket didn't pick up any of the wind or rustling outside. The caller was impressed to know I was on a windy mountain slope and claimed it sounded as if I was inside somewhere.
» Full Story »